Google now has an AI shopping tool to make virtual shopping as interactive as the store experience.
The Google AI Shopping tool lets you try clothes on virtual models of different body types and skin colors. Since these virtual models have different poses, they give you an idea of how the clothes would look on you if you were trying them out physically in a store.
I think this is the breakthrough we've been envisioning as online shoppers. No more 'what I ordered' vs. 'what I got' stories. Here's what AI will do for us.
Is Google Testing Generative AI for Shopping?
Yes, Google says it's testing this innovative project in the US, and online shoppers can try this tool when shopping on Google from retailers like Anthropologie and H&M.
Generative AI uses text, images, code, and sound, which makes this technology the best in the shopping world. It's a game-changer because it improves the extensive product listing on the Google Shopping Graph. 
The try-on models in Google Shopping AI use a diffusion-based AI model. This technology uses an image of a garment and a person to generate a photorealistic appearance of you wearing that garment.
This AI tool serves everyone as the models range from XXS to 4X body types. On top of that, this try-on tool uses the Monk Skin Tone Scale to match the try-on models with ten shades Dr. Ellis Monk, a Harvard professor, identified as global skin tones. Hence, it's more than just shopping on Google; you compare the outfit's color with your skin tone as you would when trying it out in a boutique. Here's how this tool works.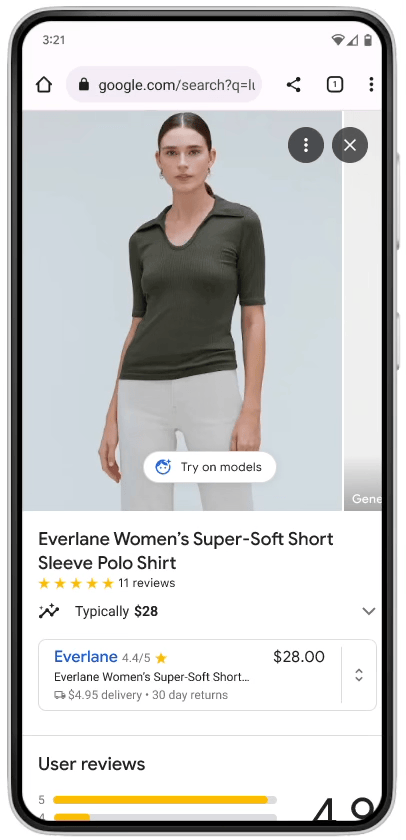 Further, unlike when you shop physically, you can use this AI tool to test products from different retailers. Thus, it'll save you time and money when revamping your wardrobe.
The AI tool training process used images generated by the Google Shopping Graph. Consequently, the models are a realistic impression of the poses we make.
Another advantage this AI shopping tool has over others is the wealth of product listings already available. You can search the over 30 billion products with criteria like reviews, images, and descriptions in the Google Shopping Graph. Plus, if you're looking for clothes, this ingenious search engine suggests accessories like shoes and bags complete the look. Now, when you add the new try-on feature, it makes shopping on Google pleasurable.
Google is serious about this AI thing. They want to take things as far as getting you generative AI for follow-up questions in case you don't get the product results you wanted in your first search. For instance, if you find clothes but want to search for the best shoes for that look, Google wants to get you a range of options ASAP.
Check their explanation in this video.